Thunder Equipment Testimonial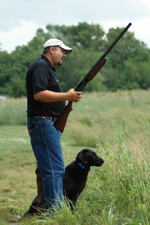 Absolutely the best equipment on the market for training hunt test dogs!
In our training program we regularly train many different retriever retriever breeds to compete in AKC Hunt Tests, Working Certificates, and UKC events. Many are dual titled champions in hunting and conformation. Thunder Equipment launchers are without question better than anything on the market for training dual purpose dogs. The combination of shotgun sound and high, visible marks create a level of realism that excites the dogs and helps advance their skills. Many dogs that may not show the highest level of initial enthusiasm for their work get extremely interested and excited about the marks thrown with the Thunder products. The launchers are extremely easy to use. Clients that work with us can be trained to operate the launcher in about 2 minutes and with no training can reload them instantly. If you are serious about training or hunting your dog this equipment is the best, period!
Mitch White, Gamekeepers Retrievers
www.gamekprs.com