Thunder Equipment Testimonial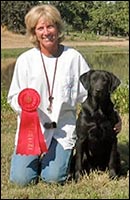 Finally, a product that is pro tough and made for the rigors and demands of retriever field training!
The Thunder Equipment Model 500 has SIGNIFICANTLY better quality and reliability from any training equipment I have ever used. It is very easy to setup, load, and transport. Because it is so durable and user friendly there is nothing to do but setup, put on the bumpers, and fire. The sound creates a more realistic shotgun blast than blanks or primers. It can excite the dogs almost as much as a flyer! I have shot thousands of bumpers and it has performed flawlessly and never misfired. In a world where good customer service is a thing of the past, Thunder Equipment knows their products and answers questions promptly, accurately and courteously.
Luann Pleasant, Red Rover Retrievers
www.RedRoverRetrievers.com