Thunder Equipment Testimonial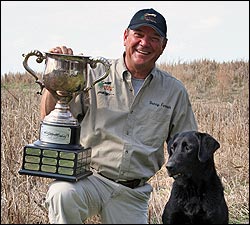 If you want to tune up your hunting companion or compete in advanced retriever sports, Thunder Equipment products will significantly improve your success!
They have succeeded in giving the dog training world what is has been requesting for decades, high quality equipment that is reliable and reasonably priced. This is by far the best launcher we have ever used. It's ability to advance retriever training techniques and performance is immeasurable and we have come to rely on this equipment in our regular training routine. The shotgun simulating launch sound excites the dogs and provides a very realistic training experience. Thunder Equipment's innovative products provide the individual or small training group the fastest, most reliable approach to teaching everything from simple marks to complicated all-age / master hunter concepts.
Danny Farmer & Judy Aycock, Vinwood Kennels
www.dannyfarmer.com