Thunder 100 Launcher
US Patent #10306739
The Thunder 100 doubles as a shotgun simulator and bumper thrower. No need for poppers or primers. It is 100% safer than current shotgun blanks. One can of fuel is equivalent to $300 in poppers. Can be used equally well with right or left handed throwers. No moving parts! Will shoot in the rain and requires no oiling or cleaning. Built in redundant safeties guarantee safety and reliability. Dogs know the difference between primers and shotgun sounds. Use a product that gets them really excited and can be heard for hundreds of yards!
PRICE $299 - FREE SHIPPING!
T100 Strap Upgrade
Newly improved strap replaces straps in existing field units.
PRICE $20 + shipping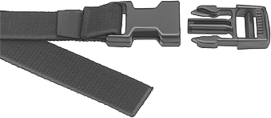 Additional Information
• Thunder 100 User Manual
RECENT EVENTS USING SIMULATORS
AS SHOTGUN REPLACEMENTS
CLUB

STAKE

JUDGES
Pine Ridge Retriever Club
Brighton, Ontario
Open
Howard Simson / Jim Andrews
Tulsa Retriever Club
Qualifying
Amateur
Mike Boley / James Roberts
Wichita Falls
Retriever Club
Qualifying
Amateur
Pat Kenny / Braxton Burnell
Robert Reuter / Bill Burks